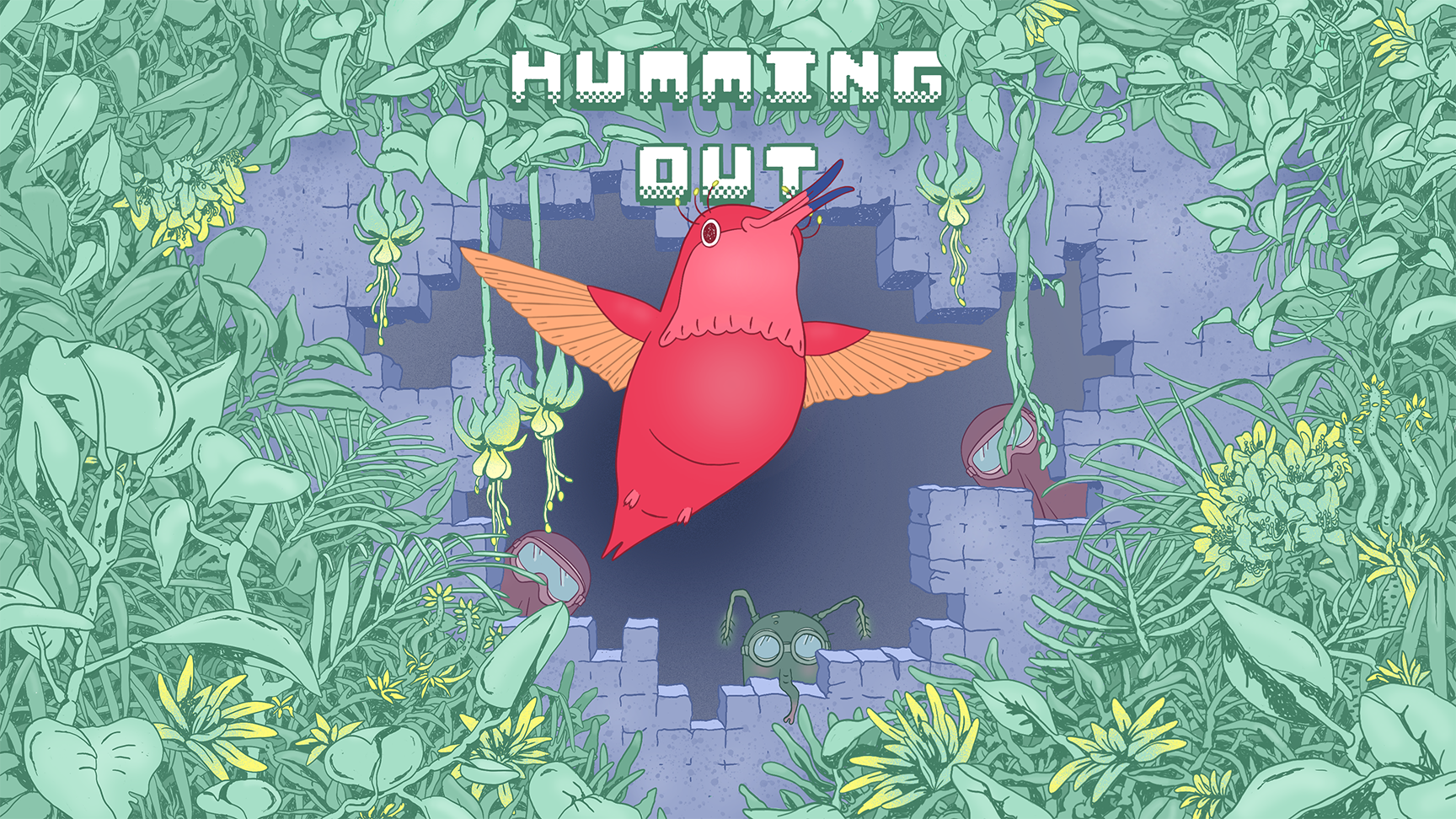 HUMMIN' OUT
HUMMIN' OUT



"HUMMIN' OUT by MFauzan, davidoffcw, it's like Flappy Bird meets Celeste" - BdR76

A casual 2D pixel platformer adventure game with puzzle elements. A mini-game that started out as a submission for Mini Jam 99: Birds. During this game jam, we had the task to create a game with the theme of birds and the limitation of never stop moving.


Story
You find yourself in a dark cave surrounded by crystals and hostile creatures. As a small and fragile hummingbird, you need to avoid all obstacles and navigate your way out of mysterious places and through challenging puzzles. Will you be able to help the hummingbird escape? Play the game to find out!


The game has
- 3 Worlds (Crystal caves, Water temple, Abandoned laboratory)
- A total of 30 levels
- Tons of enemies
- Obstacle courses and puzzles


Controls
Move: A/D or Left/ Right Arrow
Jump: X or J
Hover: Hold X or Hold J


Credits
Programming & Art - MFauzan



Music & SFX - David Bock





Cover art - Laure Haverkort



Purchase
In order to download this game you must purchase it at or above the minimum price of $1.99 USD. You will get access to the following files:
HumminOut_windows.zip
34 MB
HumminOut.x86_64_linux.zip
35 MB
HumminOut_Android.apk
33 MB
Comments
Log in with itch.io to leave a comment.
very polished game. Saw it in an update and I tried it out. Your games are really fun
Cooll, amazing and unique concept, it's fun and make me frustrated at Same time 😅 cos i am not hardcore gamer myself so yes, it will be good if the target market are hardcore gamer, also, what if there's some short of difficulty adjustment? Like easy to hard mode? Or making some checkpoint in the complicated stage? And Overalls it's a good game, thanks for making this game available in here 😁 keep it up the good work!
Really cool game, only feedback is that it can use a level indicator. I mean it's unclear on which level you are, there could be 20, could be a 100. I got to the electricity levels, I kind of gave up after that, was I near the end or halfway or just 1/4th? No way to tell.
Hello MFauzan,
My name is Antonia Gates, I manage the games at CoolmathGames.com. I really enjoyed HUMMIN' OUT, I think it would be a great fit for our site!
I'm writing to ask if the game is available for non-exclusive licensing. Our licenses are totally non-exclusive, so you would maintain all of the IP rights and could continue to develop and distribute the game however you'd like to.
Please let me know if it is available, and how much it would cost. I'm looking forward to discussing this with you soon!
Best regards,
Antonia Gates
The art and and sound are beautiful. Felt very Celeste-like. My only feedback is that I sort of assume there's a minimum delay between jumps, but that timing isn't made very clear to the player, so it felt like some of my jumps just weren't registering. Great level design too. Drinking nectar was very satisfying. Incredible jam entry.
Good job, such an awesome game!